Content
News Bits
Machining in the
ZONE Newsletters
See our site
dedicated to
MazaCAM.
Call us regarding
the latest GeoPath
upgrade.

Dealers are Welcome
If you are interested
in becoming an
authorized dealer for
GeoPath, you can
e-mail us for more
information or call us
at 408-249-1529 or
888-322-3226 toll-free
in the USA
"Over 35 Years of Providing Real CAD/CAM
Solutions to the Manufacturing Industry."
Geopath WIRE-EDM (2 and 4 Axis) Module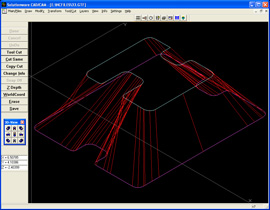 Just like GeoPath's other modules, the Wire-EDM Module is based on simplicity and ease of use, and it is also seamlessly integrated in GeoPath's CAD/CAM system. GeoPath can be used to program both 2-axis and 4-axis Wire-EDM.
Some of the specifications:
| | | |
| --- | --- | --- |
| Direct import of IGES surfaces, DXF and more | | User configurable universal Post-Processor included, that can output edit-free code for your machine. |
| Built-in tool library | | Comprehensive 3D databases that support splines, B-splines, NURBS and parametric surfaces and more. |
| Verify tool path on screen | | Easy-to-use layers. |
| Tool bars available to ease the use of programming | | Customizable User-Interface screen for our various types of users (Beginners, intermediate and advanced). |
System requirements:
| | | |
| --- | --- | --- |
| Operating Systems: | | Windows® XP, Vista or 7. |
| Network Capabilities: | | Network capabilities for Windows® XP, Vista or 7. |
| Hardware: | | Pentium, mouse or compatible pointing device. VGA or SVGA card and Windows® compatible monitor. Printer (parallel) port. Serial port to communicate with NC machines (not the mouse port). |
| Memory: | | 1GB free space on hard-drive and 4GB of Ram. |
| Hard-disk space: | | At least 100MB of disk space, not including Windows® and Windows® swap-file. |

For a complete list of specifications and prices please call our sales department at (408) 249-1529 or toll-free at 1 (888) 3CAD-CAM (1-888-322-3226) in the USA. Our office hours are from Monday - Friday 9:00 AM - 5:00 PM PST, you can also fill out our electronic form and we will send you information.
[ Back to Top | I Want More Info | Let Me See The CAD/CAM Modules ]
---
Copyright © 2017 by SolutionWare Corporation. All rights reserved. GeoPath is a trademark owned by Basic NC Inc. Windows is a trademark owned by Microsoft Corporation. All other trademarks are the property of their respective owners.