Press Releases


---
PRESS RELEASE
Silicon Valley, CA - August, 2008
Contact:
Martin J. Aguilar
VP Marketing
SolutionWare Corporation
(408)249-1529

MazaCAM CAD/CAM and Editor – Matrix Edition Version 4.6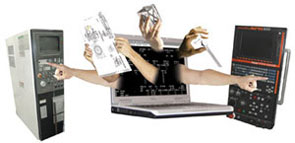 SolutionWare Corporation, the developer of MazaCAM, a breakthrough technology for Mazak shops using the Mazatrol language has released MazaCAM CAD/CAM and Editor – Matrix Edition Version 4.6. This latest edition of MazaCAM includes various major enhancements to help Mazak shops program their machines or convert programs from one machine to another.

Enhancements to address previously unsolvable problems:
One of many enhancements which have had no solution in the past is the ability to take a 3D Mazatrol program and convert it to another Mazak control. With this new feature, re-writing 3D Mazatrol programs by hand to another control is no longer an issue thus reducing programming time and cost.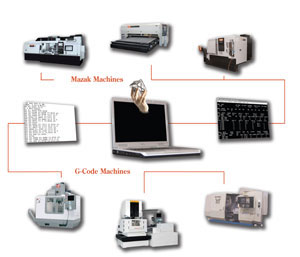 Converting to Matrix from Legacy controls:
With the increasing cost of programming and reprogramming parts that are already proven on other machines, Mazak shops are continually looking for new solutions to improve productivity and delivery time. And while most Mazak controls can up-convert the immediately prior generation or two, the task when converting to Matrix is far more extensive than any previous generation, and many aspects are tricky to handle.

While anyone can get there by hand-copying the program and entering it into the new Matrix control, this is a tedious and error-prone method. MazaCAM is breakthrough technology that transforms the legacy Mazatrol programs to the new Matrix controls, enabling the shop to be up and running in a minimum time.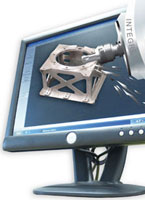 The e-Machine and the Integrex:
Many customers who buy the e-Machine (which is milling-based) also have an earlier Integrex (which is turning-based). MazaCAM converts between these entirely differently-based control families. There are literally hundreds of tricky nuances that are handed in this extensive advanced conversion. MazaCAM handles Mazatrol programs from all earlier generations of Integrex: T3, T32, T-Plus, Fusion640MT, and Fusion-MT-Pro.

For 33 years SolutionWare Corporation has been continuously advancing software and training that gives CNC shops the flexibility to utilize all their CNC equipment for the greater productivity of their shop. For more information, call 408-249-1529 or toll-free 1-888-322-3226.

---
PRESS RELEASE
Silicon Valley, CA - July, 2003
Contact:
Martin J. Aguilar
VP Marketing
SolutionWare Corporation
(408)249-1529
Get More Done in Less Time
SolutionWare Corp. has just released GeoPath V4.1. The software includes a set of more powerful, easier to use features to increase production and cut more parts in less programming time.

Get more programming done in less time
The "NC Utilities bar" is said to give users direct control and command of their NC programs. Creating tool-sheets, calculating run-time, communicating to the machine are just some of the functions accessible with a click of the mouse. During programming, the "IGES repair function" reduces programming time by automatically checking the incoming CAD file for errors and fixing them. GeoPath V4.1 also encompasses the ability to extract the part geometry from surface files in a matter of seconds, allowing for easier and faster programming of 2.5 Axis mill cuts. Numerous 3D enhancements were added to the software to facilitate and lessen programming time for complex surfaces. These include the ability to convert surfaces to different kinds and other tools that give the user a variety of methods of cutting that a programmer might deem better for different. situations.

Cut more parts in less time
The "Plunge Roughing" cut kind gives programmers the ability to maintain tighter tolerances and remove material faster while applying more force from the machine in the Z direction. It is available in numerous path-kinds such as: back and forth, spiral from the outside in, spiral from the inside out, contour or user custom path. Users are more in control of their production and programming time.With the new enhanced "Helical Threading", threading blind or through holes is done faster and with more control. It also includes abilities to do taper threads, inside or outside threads, feedrate compensation, lead-in/out control, Tool-Radius-Compensation, features for cutting hard materials, and use single or multiple thread tools. The Lathe "Step-Peck Roughing" also speeds up production by eliminating the time spent removing chips wrapped on the tools during roughing operation. It is also a useful tool for roughing out deep or complex groove shapes with smaller groove tools.

More graphical feedback, Less time verifying
GeoPath V4.1 also incorporates a number of features to ease programming. The 3D Surface and 2-Axis Lathe rendering help programmers visualize the final part while programming. The "Tool-Library Selection Image" instantly shows the user a picture of each tool including the tool holder when scanning through the library list, which makes the selection process more certain and faster. The "Tool Orientation" picture makes it easier for programmers to identify the tool orientation and angles used during the machining process.

GeoPath V4.1 is available in modules to suit your shop's needs. Modules also include auto-programming, EDM and MazaCAM (Mazatrol output module). Call 408.249.1529, or email info@solution-ware.com for more information.
---
PRESS RELEASE
Silicon Valley, CA - July, 2002
Contact:
Martin J. Aguilar
VP Marketing
SolutionWare Corporation
(408)249-1529
MazaCAM Tool-Data Editor

The Off-line Tool-Data Editor integrated in MazaCAM makes Mazatrol programming even easier for Mazatrol programmers.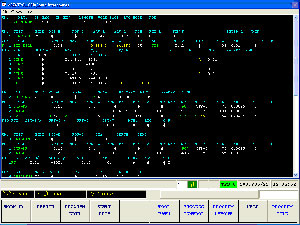 SolutionWare announces its new enhancement to the MazaCAM Off-line programming system: Mazatrol Tool-Data editing. An addition added to make Mazatrol programming even faster.
In one convenient user-friendly screen, the user can create or edit his Mazatrol program, then simply switch to his Tool-Data and select or modify the necessary tools that he needs to run that job. This is also done in combination with using the Tool-File from the Mazak. The user will be able to modify the Nominal Diameter, the angles of the tools, the tool material etc. just like doing it on the Mazak control itself. The Tool-Data file would be downloaded ONCE from the machine and stored on the computer for future modifications and programming.
With this new enhancement, the programmer can have everything ready (program, tools, time estimate, etc.) for the job and simply send it to the machine for programming. All the work is done in the office on the computer while the machine is running other jobs.
As a CNC programmer, reducing downtime is very important. That is exactly what Richard Esser from Ermco Manufacturing experienced: "Since installing MazaCAM, I have found that down-time on our Mazaks has been reduced by 80%. Now we get the most of our Mazaks." Scott Reid from Circle Gear Manufacturing increased his programming time: " With the MazaCAM software, intricate shapes that would take hours to program manually, literally took minutes with your system."
More information about MazaCAM can be obtained by calling SolutionWare at 408-249-1529, or toll-free in the USA 1-888-3CAD-CAM
---
PRESS RELEASE
Silicon Valley, CA - February, 2002

Contact:
Michel Daboul
VP Marketing
SolutionWare Corporation
(408)249-1529
SolutionWare and NTMA Team Up to Train Incumbent Workers and Apprentice Machinists with their "Computers and Machining" Classes

SolutionWare Corporation and NTMA announce classes to train incumbent and apprentice machinists in SolutionWare's popular CAD/CAM programming system, GeoPath.

GeoPath is taught as a stand-alone application. Employees value the program because it represents the right balance of speed, ease of use and power. Intuitive as it is, GeoPath has the sophistication to handle the vast majority of part programming activities in Silicon Valley.

GeoPath features modules in milling, including 3D; lathe, live tooling with Y-Axis; and Wire EDM.

The NTMA is well known and respected for aiding continuing education in the tooling and machining industry, and is a leader in job training and retraining, having placed thousands of machinists in jobs.

The theme of this semester is called "Computers in Machining." In this class students will learn how to increase CNC productivity through use of computers and CAD/CAM.

"Transitioning from a down economy into a recovering economy can be tough when there have been personnel changes. It is vital for employers and employees to know where they can go to get continued education from a reputable place that has state of the art technology that will keep one competitive." Jon Perry, Senior Applications Engineer, SolutionWare Corporation.

SolutionWare is proud to support colleges, universities and manufacturing vocational classes with their star CAD/CAM program, GeoPath. SolutionWare is proud to be an American company doing all of its development and management in the USA.

If you are interested in learning more about GeoPath or about it's continuing Education Program, contact Mr. Michael at 408.249.1529
---
PRESS RELEASE
SAN JOSE, CA - November 02, 2000
Contact:
Jim Parker
VP Marketing
SolutionWare Corporation
(408)249-1529
SolutionWare Corporation releases MazaCAM version 3.4
The One Button Click "File Commander" integrated in MazaCAM makes programming easier for Mazak CNC programmers.

Time is money. And any steps that can be eliminated from downtime are converted to profits. And that is what MazaCAM brings to the table with the one click "File Commander."

Training new employees and making the experienced programmer's job easier and faster was the top priority for the development team at SolutionWare Corporation.

G-code and Mazatrol programmers are finding it even easier to program in the comfort of their own office because MazaCAM with GeoPath is an off-line programming tool that eliminates the hassle of having to stand at the control. Programming time is reported to take a third or a quarter of the time it would take to program at the machine.

With the File Commander integrated in MazaCAM we have eliminated several programming steps — and have combined them all with a single mouse click.

In one convenient screen, the File Commander lists the available files. Then, simply by clicking on a file, the file commander shows the content of the file, and executes the entire sequence of operations with a single click of the mouse.

This latest version gives programmers a master console for G-code, Mazak file management, Mazatrol editing, and Mazatrol communications. The "File Commander" will activate different automatic functions once the programmer selects one of his files.

These functions help the programmer complete his various tasks; whether it is to edit the selected file in the MazaCAM Editor, convert that file from one control type to another, or even to send the selected file to his Mazak or G-code CNC – all done with a single click of the mouse.

More information about MazaCAM can be obtained by calling SolutionWare at 408-249-1529, or toll-free in the USA 1-888-3CAD-CAM.

---
PRESS RELEASE
SAN JOSE, CA - July 26, 2000

Contact:
SolutionWare Marketing
SolutionWare Corporation
(408) 249-1529
All the Right Tools to get G-code and Mazatrol Programs Done Faster and Easier
SolutionWare Corporation announces its release of MazaCAM with GeoPath version 3.3. An intelligent solution that allows Mazatrol and G-code shops to save time and increase production. Our complete CAD/CAM product gives the end-user the versatility of both G-code and Mazatrol programming by enabling him to program in his own method (whether it be CAD/CAM or Mazatrol) and output to either one.

MazaCAM with GeoPath is the only CAD/CAM product on the market that can take a Mazatrol program and convert it to an edit-free G-code program within minutes. MazaCAM (the Mazatrol-oriented off-line programming system) integrates with GeoPath (the G-code programming system) to allow the Programmer to program any machine in his shop from one computer! This solution results in saving time and increasing production.

Our complete CAD/CAM solution is composed of three main sections: MazaCAM Utilities, the MazaCAM Editor, and the GeoPath CAD/CAM programming system.

MazaCAM Utilities
MazaCAM Utilities give the Programmer flexibility to translate between Mazatrol and G-code, as well as uploading and downloading directly to the Mazak machine utilizing its unique Mazatrol protocol. MazaCAM Utilities will convert between control types such as: M32, M-Plus, Fusion 640M and back to M2, and between the T32, T-Plus, Fusion 640T and back to T2 and T3. Additionally, our MazaCAM Utilities can send programs to and from the new Fusion controls with the floppy disk or network formats.

MazaCAM Editor
The MazaCAM Editor enables the user to easily create and/or edit Mazatrol conversational programs for all of the Mazak controls (including the PC Fusion). It also includes printing capabilities. Two more important features which increase its versatility for the Mazak programmer is "copy and paste" and the ability to plot the part shape.

The MazaCAM off-line Editor can take any portion of the program for a previously programmed part, select it, and then copy and paste it to the new program currently being programmed. This feature gives the Programmer yet another way to save time in programming. The programmer simply clicks on the previous Mazatrol program, and copies and pastes selected sections to the current program he is now working in.

Plotting shapes from Mazatrol is a simple one step process with the off-line Editor. All a programmer has to do is select "plot shape" from the menu and the graphic display of the part shows on the monitor. In addition to the plotted shape being displayed in the Editor, it highlights the exact section of the part that corresponds to the program step he clicked on.

GeoPath
The G-code part of the system — GeoPath — has just been upgraded to version 3.3 It is now icon driven and includes hot-keys, menu commands and right-click menus. It also contains pre-programmed shapes of ellipses, parabolas, D-shaped holes, slot commands etc., as well as lettering/engraving. Geopath's new interface gives the programmer three choices of screen formats to utilize. Beginners can use Geopath's original format. Users with intermediate experience with GeoPath can use icon toolbars and right-click menus. Advanced Programmers can take advantage of the full graphic screen without the necessity of icons or prompters, and can use hot-keys to instantly execute commands without going through menus. As always, the user can output fully post-processed G-code for Okuma, Fadal, Fanuc, Haas, etc.

Customers can purchase the entire product — all three tools — or each tool individually and upgrade as needed. Because the modules are designed to be part of an integrated package, customers who already own single tools can look forward to a seamless upgrade. Giving the end user the ability to integrate individual tools into one powerful system will enable him to meet all of his programming demands.

More information about GeoPath can be obtained by calling SolutionWare at 408-249-1529, or toll-free in the USA 1-888-3CAD-CAM.
[ Back to Top | I Want More Info | Let Me See The CAD/CAM Modules ]
---
Copyright © 2017 by SolutionWare Corporation. All rights reserved. GeoPath is a trademark owned by Basic NC Inc. Windows is a trademark owned by Microsoft Corporation. All other trademarks are the property of their respective owners.