Content
Updates and
Upgrades
News Bits
Machining in the
ZONE Newsletters
See our site
dedicated to
MazaCAM.
Call us regarding
the latest GeoPath
upgrade.

Dealers are Welcome
If you are interested
in becoming an
authorized dealer for
GeoPath, you can
e-mail us for more
information or call us
at 408-249-1529 or
888-322-3226 toll-free
in the USA
"Over 35 Years of Providing Real CAD/CAM
Solutions to the Manufacturing Industry."
GeoPath Upgrade
To make GeoPath even more robust and efficient, a large amount of new enhancements and improvements went into GeoPath to make programming even smoother. Some of the new features are: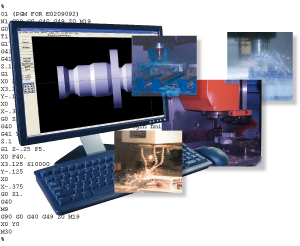 Program Utilities toolbar for quicker access to various functions and applications such as Run-Time, Make Tool-Sheet, Make NC Program, Make Mazatrol and more...


Lathe 2-axis rendering for better graphical representation of the part


Major 3D cutting improvements for easier 3D machining


3D Rendering capabilities for 3D Surface file to give the user a better graphical representation of the final part


Improvement on 3D projection to NURBS surfaces: users can now make 3D toolpath cutting go across one or multiple NURBS surfaces.


Ability to extract 2-axis geometry from 3D surface files for easier programming of cuts.


and much much more.
If you currently own GeoPath and are under service contract, you can obtain your free upgrade by sending a fax requesting the new update together with your company name and address to SolutionWare at 408-371-3712.

If you are interested in upgrading but you are not under service contract or do not own GeoPath but another CAD/CAM system, please call SolutionWare's sales office at 408-249-1529 or toll-free at 888-3CAD-CAM. You can also fill out the form on this site to get more info.
[ Back to Top | I Want More Info | Let Me See The CAD/CAM Modules ]
---
Copyright © 2017 by SolutionWare Corporation. All rights reserved. GeoPath is a trademark owned by Basic NC Inc. Windows is a trademark owned by Microsoft Corporation. All other trademarks are the property of their respective owners.